Denise's Birthday Surprise!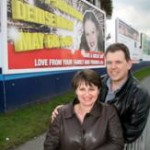 Having been involved in the poster industry for a number of years does offer some great advantages, especially when it comes to a special celebration. Richard is fortunate to know the owner of some billboards in Bracknell and May 6th, 2008 was the 50th birthday of his wife, Denise. Richard is always being accused of forgetting to get a birthday card until the last minute, so a 20 foot x 10 foot card should make up for it and it has a prominent position at the entrance to Bracknell Town Centre for 2 weeks.
Richard says, " I found a three inch square photo of Denise on her 21st Birthday, and this was the best photo I could find. I did not want to put a current photo up and thought it would be good to take a photo from another special birthday. All I did was to send the photo together with some text to our production team in Birmingham and they did the rest and what a great job they did. It is at times like this that it is so great to have good business contacts and good relationships.
When he knew the poster had gone up, Richard asked Denise to go down to the billboard and told her another client's poster had gone up, and we needed to get a picture taken. When Denise approached the roundabout and was stopped by the lights, her first thought was the poster looked a bit bright and not usual for the client she was expecting. She though the wrong poster had been put up, and it was not until she looked a bit harder, saw the text that she realized what it was. She had to go round the roundabout again to drive past the poster to get a better look at it. To say she was surprised would be an understatement. Within hours, she had told several people, people had rung her, photographs had been taken, and plans for it to appear in the local paper had been arranged.
Richard was informed this could open up another business opportunity, and yes it could. Not only could space be offered on billboards, but also on taxis, train stations and a number of other opportunities. It is not a cheap way to promote a birthday, but it is very novel and, for a special occasion, why not?
For more information on what could be done to promote a special event, why not give Richard a call on 01256 767837