Tara Neil Billboard Campaign in Reading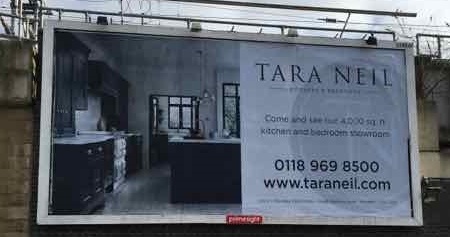 This is a campaign for Tara Neil who booked a billboard on Caversham road head on to all traffic heading into the town centre and the IDR in Reading. The client has booked this site for a number of periods over the year to promote their quality kitchen and bathroom showroom in Reading. This road has thousands of vehicles a day heading into Reading or on to the M4 at junction 11 so the message is visible to all drivers heading in this direction at least 10 times over a 2 week period


Billboard advertising is not an unaffordable as a lot of people think it is, and because 90% of the outdoor industry is controlled and booked by national brands, we all think this type of advertising is unaffordable for the local advertiser. You will be surprised how affordable outdoor advertising is. Why not give the team at Focal Point a call on 01256 767837 or drop them an email on enquiries@focal.co.uk – alternatively complete the free campaign proposal form by clicking the link.